I am Gary Stephens, owner and founder of  Mr. BBQ 911, a 100% mobile catering company.  My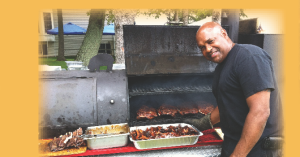 love of BBQn came from years of watching my parents cook. My mom was from Baton Rouge La. and my dad from Atlanta Ga! Both different styles of cooking! I took that knowledge and started experimenting with different ways of barbecuing at age 11. Many years later after being asked countless times to cook at friends gatherings/picnics/parties, I learned and mastered the art of indirect slow cooking with my custom made smoker! My sauces can be sweet, sweet with a little bit of heat or sweet with a lot of heat! It's completely up to you!
We bring our kitchen to your backyard so you can finally enjoy your party or special event. Compared to traditional catering, we cook on or off-site. We specialize in BBQ, hot off the grill, and all different types of meat. We are known for cooking way too much food so everyone leaves your party/event with a full belly and you have plenty of time to socialize with your guests.